Embassy English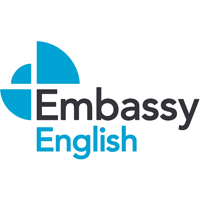 Kuruluş Tarihi: 1998
Akreditasyonlar: British Council, ACCET, NEAS, NZQA, Languages Canada, English UK, English US.
Embassy English her yıl 30,000'den fazla öğrencisine 18 farklı İngilizce konuşulan merkezde en iyi İngilizce eğitimini vermektedir. Düşük kontenjanlı ve son teknolojiden faydalanılan sınıflarda kaliteli eğitim kişisel hedeflerine ulaşmalarına yardımcı olmaktadır. Aile yanı veya yurt konaklaması seçenekleri, geziler ve sosyal aktiviteler arkadaşlıkların kurulması, kültürlerin kaynaştırılması için dikkatlice düzenlenmektedir.
Akreditasyon ve Üyelikler:
NYSED.gov (New York State Education Department (USA)
Languages Canada
British Council
NEAS (Australia)
English Australia Colleges
NZQA (New Zealand)
ACCET (USA)
English UK (England)
English USA (formerly AAIEP USA)
Ödüller:
Winner Star Chain School 2012/Nominated 2013
Winner Star Chain School 2010
Winner Star Chain School 2009
Winner Innovation of the Year 2008
Winner Star Chain School 2007
Genel İngilizce
İngilizce Sertifikası
Sertifika Sekiz
Yeni Başlayanlar için İngilizce
Travel and Culture
Power Speaking
Learn English in Canada
Uzun Dönem İngilizce
Yurtdışında İngilizce Yılı
Sınav Kursları
TOEFL
IELTS
Cambridge sınavları
Üniversite için İngilizce
Akademik Amaçlar için İngilizce
İş İngilizcesi
İş İngilizcesi Sertifikası
Young Learners Study Holidays
Embassy Summer
Embassy Academy
Tamamlayıcı Kurslar
Birebir dersler
Pratikte İş İngilizcesi
TOEIC sınavına hazırlık
Language Co-op in Canada
Embassy English dil okullarının tüm listesine aşağıdan ulaşabilirsiniz.